ANTARES Group developed its first commercial-scale solar energy project in 1997. It was a 12kW rooftop system, which seems quaint by today's standards, but from this humble start, ANTARES has expanded its knowledge and capabilities in this area to include a variety of services for what is now known as utility-scale solar. Our current list of services include all the typical elements that are needed to move projects from conception to commercial operation and beyond. These include high-level screening assessment of prospective sites utilizing aerial imagery and sophisticated in-house modeling that combines GIS analysis with advanced siting algorithms; preliminary project design and performance analysis; authoring specifications for EPC bids; reviewing EPC bids; performing final design reviews; project inspections; and post-commercial operations monitoring and performance verification services.
Whether its commercial-scale rooftop systems or 100+ MW ground-mounted systems, our staff is ready and capable of helping clients move their projects from concept to reality as safely, economically and efficiently as possible. A few projects of we think will be of particular interest are provided below and we encourage you to explore our experience further.
Owner's Engineering and on-site construction support for large-scale PV projects
Feasibility analysis, engineering design, interconnection support, asset management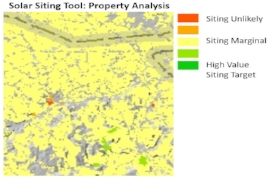 Developed proprietary model for project siting incorporating economic analysis and GIS
ANTARES assists Dominion Energy develop projects for their Community Solar Program.